Hi, we're Made by Windmill, a small studio that designs and builds amazing apps for Apple's platforms.
Need an app designed or built? Get in touch.
About Us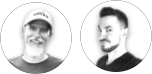 John Scalo and Davey McGavern met while designing and engineering iOS and macOS at Apple. Combined we have over 45 years of experience designing and building apps for Apple platforms.
We started Windmill in 2016 to efficiently build amazing apps for all kinds of companies, from small startups to industry leaders.
When you hire Windmill, you work directly with the two of us and not an oversized team of project managers, product managers, QA testers, etc.
Services
We specialize in designing and building apps for Apple platforms, including iOS, macOS, watchOS, tvOS, and visionOS.
We are excellent collaborators and regularly work with backend and Android engineers, though we don't provide those services on our own.
Clients
Apple, Airbnb, PopSockets, Nomorobo, DNSFilter, Littlefund, Astralo, Pen Pals, Yap Studios, 1up Events, Mona, b8ta, Stardust, Bond, and more.
Apps we build have been featured multiple times by Apple on the App Store and are well reviewed by users.
Our Apps
When we're not busy with clients, we build our own iOS and macOS apps.